South Moline Senior Center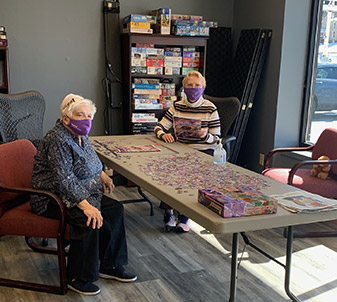 Our members enjoying a puzzle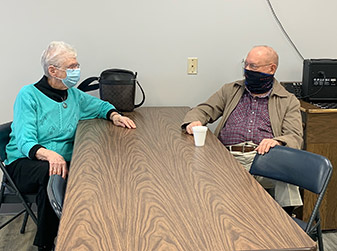 Enjoying conversations with friends at the Senior Center.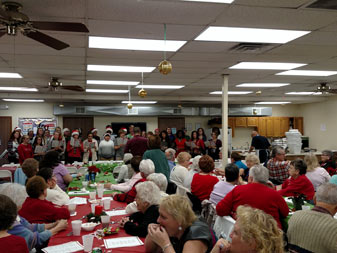 Senior Center Christmas Party
Upcoming Events
General Election Voting
TBA

Register to Vote: If you're new to the community or would like to exercise your right to participate in the election process the township staff is available to register you to vote.
South Moline Senior Center currently offers bingo, computer training, card clubs and birthday parties. The senior center is also available to rent for special occasions. We are working on new ideas and programs to assist these groups such as movie night out, bowling and other WII games as equipment becomes available. All great ideas and suggestions are welcome. Please watch our website for specific dates on upcoming events.
Senior Center Activities
Bingo
Raffle
Card Games (New groups are welcomed- Please contact the center for more information)
Christmas Meal / Party
T.O.P.S.
The Senior Center Facility is available for rental
Fee $ 25.00 per hour (minimum of 4 hours) of usage and a $ 50.00 damage deposit is required. For more information please call our Senior Center at
Ph# ( 309 ) 752-2643
Contact:
Senior Center
637 17th Ave.
East Moline IL 61244
Ph: 309/752-2643
Senior Housing Information
https://www.seniorhousingnet.com/seniors/senior-living-us/illinois

Township Locations

Office Hours

9:00a.m.-12:00p.m. & 1:00p.m.-4:00p.m.
Town Hall
2521 53rd St.
Moline, IL 61265
309-762-3232
Senior Center
637 17th Ave.
East Moline, IL 61244
309-752-2643
Road & Bridge
3310 48th Ave.
Moline, IL 61265
309-762-3711
Cemetery
2902 32nd Ave.
Moline, IL 61265
309-762-3232
Assessor's Office
2515 53rd St.
Moline, IL 61265
309-736-0814